Main content starts here, tab to start navigating
Menus
FRED 06825 never sacrifices on quality. Our teams of chefs are passionate about creating delectable and exciting recipes, that are rich in flavor, nutrition and are beautifully prepared to present at any occasion. Our desserts are made fresh daily in house.
YOM KIPPUR 2020 MENU
WWW.FRED 06825.COM - OR- CALL 203-612-6597
______ASSORTED BAGELS $14.00/DOZEN
______CREAM CHEESE, PLAIN, SCALLION, VEGETABLE $6.99/#
______SMOKED SALMON (SOLD BY THE 1⁄4) $10.00
______WHOLE WHITE FISH (MARKET PRICE)
______TRADITIONAL POTATO LATKES $24.00/DOZEN
______NOODLE KUGEL 12.99 SERVES 6-8
______ASSORTED CHEESE PLATTER $10.99
______TOMATO, CUCUMBER, BERMUDA ONION SALAD $10.95
ENTRÉE
______CEDAR PLANK SALMON WITH ROASTED VEGETABLES AND ISRAELI COUS COUS & DILL SAUCE SERVES 15-20 PEOPLE $150.00
SALADS
______GREEN SALAD WITH TOMATO, CUCUMBERS, CARROTS, BALSAMIC VINAIGRETTE $3.95/PP
______CUCUMBER DILL SALAD $9.99/

______BROCCOLI, DRIED CRANBERRIES, BERMUDA ONION, MONTEREY JACK CHEESE SALAD $9.99/
______FRED'S OWN POTATO SALAD $5.99/
______TRADITIONAL COLE SLAW $5.99/
______DAIRY FRESH EGG SALAD $ 8.99/
______CHICKEN SALAD $12.99/
______CHICKEN SALAD WITH GRAPES AND WALNUTS, $13.99

______WHITE FISH SALAD $16.99

______BAKED SALMON SALAD $15.99

______TRADITIONAL TUNA SALAD $12.99
______FUGI APPLE TUNA SALAD $12.99
______HERRING IN CREAM SAUCE $10.99
PLATTERING FEE ADDITIONAL
DESSERTS
ALL OF OUR DESSERTS ARE MADE IN HOUSE BY OUR EXECUTIVE CHEF, DAVID JOHNSON
______CHOCOLATE RASPBERRY ROULADE $32
______BLUEBERRY CRUMBLE CHEESECAKE $40
______OATMEAL RAISIN COOKIES $15/LB
______CHOCOLATE CHIP COOKIES $15/LB
______CHOCOLATE OR WHITE CHOCOLATE MOUSSE $22/QUART
NAME_____________________________
PHONE NUMBER____________________
PICK UP DAY _______________________
PICK UP TIME_______________________
SUB TOTAL_________
TAX_______________
TOTAL_____________

Fred 06825_____Rosh Hashanah Menu______
Call 203-612-6597 or 203-913-3095

All selections are made for you in house by our team of Chefs
SOUPS

_____MATZOH BALL SOUP WITH TWO MATZOH BALLS – QUART- $12.00
_____1⁄2 DOZEN MATZOH BALLS - $9.00
APPETIZERS
_____CHOPPED LIVER $11.99/POUND
_____ GEFILTE FISH $5.50 EACH
VEGETABLE CRUDITE:
_____SMALL (SERVES 6-8) $40.00
_____MEDIUM (SERVES 12-18) $55.00
_____LARGE (SERVES 25-30) $85.00

ENTREES
_____TRADITIONAL BRISKET – Sliced with Brown Gravy au Jus $22.99/LB.
_____SAVORY BRISKET GRAVY $9.99/ QUART
_____APRICOT ROASTED CHICKEN $10.95/LB.
_____STUFFED CHICKEN BREAST WITH APPLES, WALNUTS & RAISINS $12.95/LB.
_____BREADED CHICKEN TENDERS $10.95/LB.
____CEDAR PLANK SALMON WITH ISRAELI COUS COUS & DILL SAUCE (SERVES 15-18) $150.00
_____ROASTED TENDERLOIN OF BEEF WITH HERBED ROASTED POTATOES & HORSERADISH SAUCE (SERVES 15) $225.00
_____GRILLED WILD SCOTTISH SALMON WITH TERIYAKI GLAZE $26.99/LB.
_____SWEET AND SOUR MEATBALLS $10.95/LB.
SIDES
_____TRADITIONAL POTATO KUGEL (SERVES 6-8) $12.99 EACH
_____SWEET NOODLE PUDDING (SERVES 6-8) $12.99 EACH
_____FRESH GREEN BEANS WITH TOASTED ALMONDS $9.99/LB.
_____GRILLED SESAONAL VEGETABLES $12.99/LB.
_____SWEET & SOUR CUCUMBER SALAD WITH BERMUDA ONON AND FRESH DILL $9.99/LB
_____TSIMMES $9.99/LB
_____RED OR WHITE HORSERADISH $5.99/ 1/2PINT
DESSERT
_____DOUBLE CHOCOLATE CAKE $30.00
_____COCONUT CAKE $32.00
_____CHOCOLATE RASPBERRY ROULADE $36.00
_____BLUEBERRY CRUMBLED CHEESECAKE $42.00
_____CHOCOLATE CHIP COOKIES $15.00/LB.
_____CHOCOLATE OR WHITE CHOCOLATE MOUSSE $22.00/QUART
CUSTOMER NAME ___________________
PHONE NUMBER ____________________
PICK UP DAY & TIME _________________
SUB TOTAL________
CT SALES TAX______
TOTAL__________
CHEF MADE DINNERS
Call To Order 203.913.3095
no delivery charges - $50 min. order
TIMES
M -F 12 to 5pm
SAT 12 to 2pm
Meals Are Heat & Eat (Arrive Cold)
-No Substitutions -
Chicken Marsala With Rice Pilaf $9.95
Chicken Française With Rice Pilaf $9.95
Eggplant Parmesan $8.95
Penne Vodka $8.95
Tossed Garden Greens For Two $12.95
------- ADD A LITTLE MORE YUM-----
Turkey Meatballs (2) $12.00
Meatloaf (1 lb) $10.95
Wild Teriyaki Salmon (8 oz) $14.00
Grilled Chicken (1 lb) $12.95
Chicken Cutlet For One $12.95
Lasagna $13 per serving
Chicken Tenders (8 piece) $12.95
Maryland Crab cake $10.50 Each
--------------SIDES-----------
Creamy Mashed Potato $10.00 quart
Fred's Brocoli Salad $12.00 quart
Roasted Red Potatoes $10 quart
Fuji Apple Tuna Salad $12.95 pint
Roasted Brussels sprouts and Carrots $12.00 quart
Assorted Grilled Vegetables $12.00
Sesame Noodles $12.00 quart
Red Potato Salad $12.00 quart
QUARTS OF HOMEMADE SOUP
Check Our Instagram Story Daily For Soup Selections or Inquire When You Call
$10 per quart
HOME MADE DESSERTS
Please ask for selections when you call to order.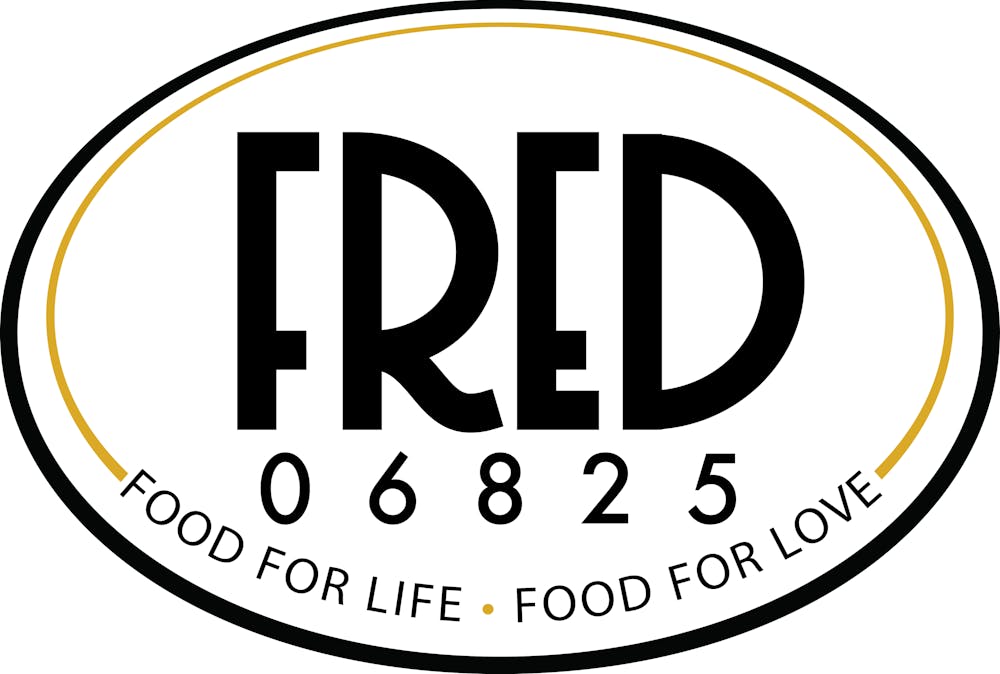 CATERING MENU
Hors D'oeuvres
-Minimum Hors d'oeuvres Order is 3 Dozen - Each Hors D'oeuvres are priced per Dozen
-Tuscan Bruschetta $18.00 sundried tomatoes, artichokes, olives, zucchini, yellow squash, olive oil, & garlic served on focaccia toasts
-Chicken Yakitori $20.00
tender chicken breast served on mini skewers with scallions and sesame seeds, marinated in a soy glaze
-Sesame Shrimp Toast $24.00
shrimp, scallions, ginger, and garlic deep-fried to a golden brown, served with a sweet chili sauce
-Mini Homemade Pizzas $18.00 a variety with goat cheese, asparagus, roma tomatoes
-Homemade Potato and Zucchini Pancakes $18.00
freshly grated yukon gold potatoes, crisp zucchini and onions, fried until golden brown and served with sour cream and caviar
-Scallops Wrapped in Bacon $27.00 large diver scallops wrapped in maple glazed bacon and dusted in brown sugar
-Kyoto Beef Rolls $27.00 tenderloin of black angus beef wrapped around scallions, marinated in mirin sauce, garnished with white and black toasted sesame seeds
-Indonesian Chicken Satays $20.00 skewered on lemon grass, marinated in garlic, cumin, soy sauce, ginger & lime with a peanut butter dipping sauce
-Swedish meatballs $18.00 served in a sour cream bordelaise sauce
-Mini Chicken Saltimbocca $20.00 boneless chicken skewered with prosciutto and fresh sage served with garlic aioli
-Miniature Maryland Crab Cakes $28.00
made from blue crab, fresh white bread crumbs, old bay seasoning, sautéed until golden brown, and served with an avocado salsa
-Steamed Pork Dim Sum $20.00 served with soy glaze
-House made Mini Cocktail Franks $20.00 wrapped in a flaky puff pastry
-Norwegian Salmon Satay $25.00 served with ginger lime mayonnaise
-House Cooked Shrimp Cocktail $36.00 with housemade cocktail sauce
-Smoked Salmon $30.00 served on cocktail breads with herbed cream cheese, capers and Bermuda onion
-Coconut Crusted Shrimp $36.00 with sweet chili dipping sauce
-Prosciutto de Parma $ 28.00 wrapped melon balls on skewer
-Shrimp and Goat Cheese Quesadillas $28.00 with mango poppy dip
-Pepper Crusted Filet $32.00 with goat cheese on grilled garlic crostini
-Mini Quiche $20.00 delicious custard filling in a flaky crust
S A L A D S & V E G E T A B L E S
Antipasto $4.95 per person
assortment of Italian meats, cheeses, olives, roasted peppers, marinated artichoke hearts and mushrooms
Tossed Field Greens Salad $3.95 per person
with alfalfa sprouts, cherry tomatoes, carrot curls and cucumbers. choice of 2 dressings
Caesar Salad $4.95 per person
romaine, brick house croutons and parmesan in a classic caesar dressing
Caesar Salad with Grilled Chicken $8.00 per person
grilled chicken, romaine, brick house croutons, parmesan in a classic caesar dressing
Caesar Salad with Grilled Shrimp $12.00 per person
grilled shrimp, romaine, brick house croutons, parmesan in a classic caesar dressing
Cobb Salad $9.00 per person
grilled chicken, bacon, blue cheese, hard-boiled eggs, tomatoes and romaine tossed in a sherry vinaigrette
Nicoise Salad $10.00 per person
fresh tuna, mesclun greens, green beans, hard-boiled eggs, tomatoes, potatoes, peppers and olives in a mustard vinaigrette
Grilled Vegetable Napoleon with Fresh Mozzarella $9.00 each
grilled veggies stacked with fresh mozzarella
P L A T T E R S
-Fresh Fruit Platter - $4.00 per person -An array of seasonal fruits and berries
-International Cheese Display $7.00 per person
imported cheeses served with baguettes, Carr's water crackers, and garnished with fresh fruits of the season
-Hummus de Tahini $ 35.00 PLATTER (12 people)
a blend of chick peas, garlic, lemon juice, parsley, and tahini sauce, served with lavash crackers
-Crudite of Crisp Garden Vegetables - $5.50 per person broccoli, cauliflower, grape tomatoes, Belgian endive, & vegetables of the season served with Chef's special dips
S P E C I A L T Y E N T R E E S
-Herb Crusted Beef Tenderloin $175.00 (15- 20 people)
roasted potatoes and horseradish cream
-Cedar Plank Salmon (whole) $150.00 (15-20 people)
Israeli couscous salad, grilled asparagus and dill cream sauce
F A V O R I T E S
♦Vegetable Stir Fry ♦ Rice & Orzo Pilaf ♦ Manicotti ♦ Stuffed Shells ♦ Baked Ziti
♦ Roasted Red New Potatoes ♦ Creamy Mashed Potatoes
½ Pan $35.00 / Full Pan $65.00
♦ Vegetable Lasagna
½ Pan $38.00 / Full Pan $70.00
♦ Penne Alla Vodka
½ Pan $40.00 / Full Pan $75.00
♦ Chicken Marsala, Franchese, Piccata or Chasseur
♦ Meatball Marinara ♦ Sausage & Peppers
½ Pan $45.00 / Full Pan $90.00
Kiddush
We're experts in planning for your Big Event. From sundown to sun up, let us be your guide to …
♦ Shabbat Dinner Menus ♦ Oneg Shabbat Menus ♦ Kiddush Menus ♦ Extended Kiddush Buffets
♦ The Out of Towner's Sunday Brunch!
CALL TO ORDER: 203-612-6597
SANDWICHES MADE TO ORDER
CHOOSE YOUR BREAD
PLEASE ORDER BY NUMBER
YOUR CHOICE $8.50
---
BREAD: PEPPERIDGE FARM 17 GRAIN or COUNTRY WHITE, NEW YORK DELI RYE, HARD ROLL or PORTUGUESE ROLL, WHEAT OR SPINACH WRAP
---
#1: FRESHLY ROASTED TURKEY BREAST, HOUSEMADE STUFFING & CRANBERRY MAYO
#2: LOW COUNTRY PULLED PORK, TOPPED WITH LOWER EAST SIDE SLAW & PEPPER JACK CHEESE
#3: SEASONAL GRILLED VEGETABLE NAPOLEON WITH FRESH MOZZARELLA CHEESE & PESTO
#4: PANKO CRUSTED CHICKEN CUTLET, BACON, CHEDDAR, LETTUCE, TOMATO & CHIPOTLE AIOLI
#5: GRILLED CHICKEN CAESAR WRAP WITH GARLIC BRICKHOUSE CROUTONS & PARMESAN CHEESE
#6: HOT ROAST BEEF WITH MELTED MOZZARELLA, LETTUCE, TOMATO, ROASTED RED PEPPERS & HORSERADISH SAUCE
#7: HOMEMADE TURKEY MEATBALL WITH MARINARA SAUCE
#8: TANDOORI CHICKEN SALAD, DRIED CRANBERRIES, CURRY & BERMUDA ONION
#9: BEST CHICKEN SALAD IN THE WORLD, BACON, LETTUCE & TOMATO
#10: FUJI APPLE TUNA SALAD, DILL, DRIED CRANBERRIES & BERMUDA ONION
#11: HOMEMADE MEATLOAF, CHEDDAR & BARBECUE SAUCE
---
Chef Crafted Dinners
Our chefs will be creating new additions to our menu every day, bringing back wonderful memories with traditional comfort foods and creating new memories with exciting, healthy, and unique choices.
CHANGING DAILY:
BLACK ANGUS MEATLOAF BOURBON GLAZE
CHEF DAVID'S SHEPHERD'S PIE
CAJUN TURKEY MEATBALLS
FIVE SPICED BARBECUE RIBS
SOUTHERN BUTTERMILK FRIED CHICKEN
BLACKENED CHICKEN QUESADILLA
BLACKENED SALMON
CEDAR PLANK SALMON WITH CREME FRAICHE
MARYLAND LUMP CRAB CAKES
PANKO CRUSTED CHICKEN CUTLETS
CHICKEN FRANCHAISE
HOMEMADE BEEF LASAGNA
FIVE CHEESE MACARONI & CHEESE WITH BUTTERY BREADCRUMB TOPPING
ROASTED TENDERLOIN OF BLACK ANGUS BEEF
SPICY AND SWEET STICKY CHICKEN WINGS
HOMEMADE TRADITIONAL MASHED POTATOES
CHICKEN FINGERS
POTATO LATKES
THAI SPICED SALMON FILET
POTATO KNISH
NOODLE KUGEL WITH DRIED CRANBERRIES AND RICCOTTA CHEESE
THAI CHILI CHICKEN WINGS
STUFFED SHRIMP WITH MARYLAND CRAB MEAT STUFFING
PAN SEARED SEA SCALLOPS
SALMON WITH POMEGRANATE MOLASSES
We are always open to new suggestions!
Soups
Always having traditional Chicken Soup on the fire.
Each day a new selection of 3 house made hot soups will be available.
Also quarts of our soups are available in our Grab & Go case.
Split Pea
Hungarian Cabbage
Sweet Potato Bisque
New England Clam Chowder
Manhattan clam chowder
Navy Bean
Lentil
Italian Wedding Soup
Chicken noodle
Chicken Tortellini
Bavarian Lentil
Beef Barley
Cream of Tomato
Southwest Corn and Chicken
Minestrone
Spinach Egg Drop
Turkey Rice
Matzo ball
Tex Mex Chicken
Sausage and Zucchini
Seafood Gumbo
Shrimp Gumbo
Broccoli Cheddar
Cream of Cauliflower Bacon and Cheddar
Pasta Fagiole
Butternut Squash
Lobster Bisque
Chicken Vegetable Cous Cous
Carrot Ginger and Cilantro
Rhode Island Clam with Corn and Andoulle
A Variety of Vegetarian Soups Will Also Be Available Daily!
Salads
Our Salads Are Designed to Tantalize Your Taste Buds and Beautiful for the Eye to Behold!
COLD SESAME NOODLES
RED POTATO SALAD WITH CHIVES
MEDITERRANEAN PASTA SALAD
LOWER NY EAST SIDE COLE SLAW
BEST CHICKEN SALAD IN THE WORLD
CHICKEN SALAD WITH GRAPES & TARRAGON
RED QUINOA & ISRAELI COUS COUS SALAD
ROASTED CAULIFLOWER & CAPPER VINAGRETTE
CHICK PEA & FETA SALAD
WHITE ALBACORE TUNA SALAD
MOROCCAN CARROTTS
GRILLED SPRINGTIME VEGATABLES
APPLE, KALE & WALNUT TABBOULEH
ROASTED ZUCCHINI WITH ANCHOVIES, FETA & HAZELNUTS
PLEASE VISIT OUR IN STORE SALAD BAR TO CREATE YOUR OWN SALADS FOR INDIVIDUAL OR FAMILY LUNCHES AND DINNERS!
Sweet Endings
Best Chocolate Chip Cookie in the World

Key Lime Pie

Banana Cream Pie

Bread Pudding with Jack Sauce

Caramel Cheesecake

Chocolate Mousse

Perfect Pound Cake

Carrot Cake

Chocolate Guinness Cake

Chocolate Layer Cake

with Whipped Cream and Berries